Posted by Erica on May 07, 2018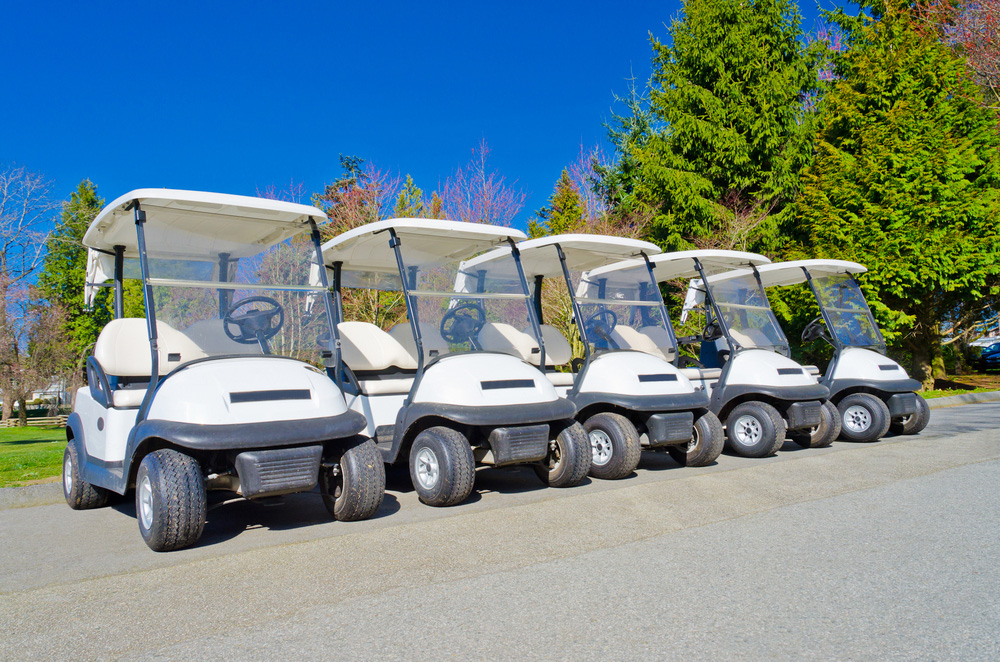 Golf carts can be great for a variety of transportation uses. In the past you may have only found golf carts on the green, but as of late golf carts are being used as utility vehicles for a variety of different uses. Nowadays you may spot golf carts being used by locals for transportation around their neighborhood, marina or camp ground. The use of golf carts doesn't stop with residential use, as businesses are finding great use for carts as well. Hotels, airports, college campuses, car dealerships, and other businesses find golf carts useful to cart guests around smoothly with style. Employees find that carts make outdoor maintenance and daily tasks easier to accomplish in a timely manner with the assistance of carts to move around the larger office complexes and warehouses.
Whatever the use, golf carts can be a quick way to get around, and adding style to your golf cart can be both easy and fun! LEDGlow's Million Color Golf Cart Lighting Kit allows you to add a unique illumination to your golf cart for added style and visibility while cruising around at night. Leave other golf cart owners and your guests in awe when they see your bright glowing cart coming down the road with multiple solid color options and a variety of multi-color lighting effects.
The Million Color Golf Cart Lighting Kit utilizes 48 ultra-bright SMD LEDs that are housed in (4) 24" thin, flexible tubes to create a custom look. Each flexible tube allows you to easily contour each tube to your preferred mounting location for endless mounting capabilities. The included control box gives you endless customization by featuring 18 solid color modes with 4 different brightness levels, 5 scanning modes, 5 flashing modes, 5 chasing modes, color cycle mode, million color fade mode and 5 sound activation modes. The sound activation modes allow the LEDs to react to music to create lighting effects that are in sync with the sound. Control all of these lighting effects simply by using the included control box or 4 button wireless remote.
Each flexible golf cart lighting tube is manufactured from extremely durable rubber and feature a 13' power wire. You'll find the installation process a breeze with the included self-tapping screws and zip ties. LEDGlow's golf cart lighting kit can only be powered by a 12 volt system. If your golf cart's battery has a higher voltage, you can install the Golf Cart Battery Voltage Reducer to safely install and power your new Million Color Golf Cart lighting kit with ease.
Feel confident in knowing LEDGlow stands behind their product by providing a one year limited warranty and free lifetime technical support with each Million Color Golf Cart Lighting Kit purchase!