Advanced Million Color LED Lighting Kit for Can-Am Ryker
EXTENDED HOLIDAY RETURNS

ACCEPTED UNTIL JANUARY 31ST

DELIVERY BY CHRISTMAS

CONTIGUOUS US ONLY

Free Lifetime

Support

1 Year Limited

Warranty
Overview
LEDGlow Advanced Million Color Can-Am Ryker LED Lights are designed to be compatible with Can-Am Ryker On-Road Three-Wheel Motorcycles. This Can-Am Ryker LED Light Kit delivers the ultimate LED lighting experience with (2) 4", (4) 6", (5) 8", (1) 10", (2) 18" and (4) 24" flexible lighting strips plus (2) 8" inverted strips. They're measured out specifically for different sections of the bike including the Headlight, sides around the Engine, Undertail, Lower Grille, beneath the Gas Tank and more. Choose between 15 Solid Color Modes and Lighting Effects that combine to deliver custom multi-color lighting patterns.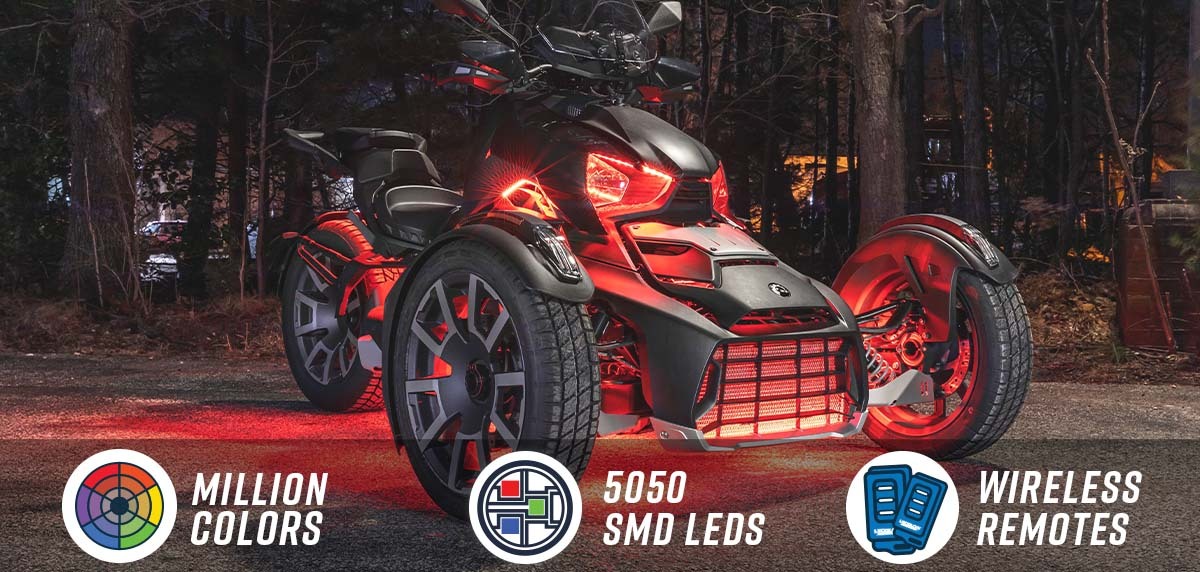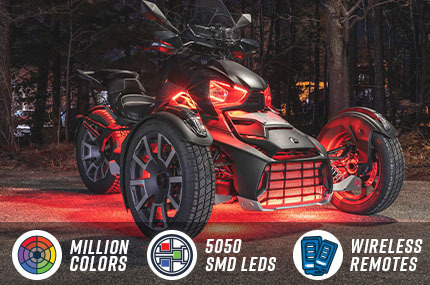 The compact waterproof Control Box features 15 Solid Color Modes, 2 Color Cycle Modes, 3 Flashing Modes and 1 Fading Mode which are easily selected with one of the two wireless remotes. The Automatic Brake Lights feature illuminates all installed LEDs in red, mirroring the Ryker's brake lights and safely signaling other motorists on the road. Pull the brake handle and the brake lights will instantly illuminate red LEDs throughout the lighting kit. This feature can be used when the Control Box is on or off. To activate, install the blue wire from the Control Box to the motorcycle's brake signal wires.
Waterproof Control Box

15 Solid Color Modes Include Blue, Red, Green, Pink, Purple, Teal, Orange, Aqua, Yellow, Light Pink, Light Green, Light Purple, Cool Blue, Cool White & Warm White
2 Color Cycle Modes, 3 Flashing Modes & 1 Fading Mode
Million Color Cycle Mode
Compact, Easy to Hide, and Will Easily Hold Up to a Ride in the Rain or Any Other Moisture Exposure
Control Features with Wireless Remotes

Strip Profile

(2) 4", (4) 6", (5) 8", (1) 10", (2) 18" & (4) 24" Strips
(2) 8" Inverted Strips
331 Ultra-Bright SMD LEDs
Flexible & Waterproof Design
Ultra-Thin 1/8" Depth

Automatic Brake Lights

Illuminates All SMD LEDs In Red
Pull Brake Handle To Activate
Added Safety On The Road
Set Up Using Blue Wire From Control Box
Connect To Ryker's Brake Signal Wires
Advanced Million Color Cycle Mode for Can-Am Ryker Lights

LEDGlow's Advanced Million Color Cycle maximizes the impact of the 15 Solid Color Modes available for these LED lights for Can-Am Ryker motorcycles. By setting this feature, you will scroll through an almost-unlimited number of variations in the shading of each solid color option. Activating this effect is simply a matter of selecting it using the included wireless remotes. Stand out on the road at night and turn a few heads as your Ryker is transformed by Advanced Million Color Lighting.
What's Included in a Can-Am Ryker LED Light Kit?
You'll have everything you need for installation of these LED lights for Can-Am Ryker motorcycles. In addition to the SMD LED lighting strips and Control Box, you'll also receive a 6pc Power Harness and Add-On Wiring Harnesses in several different lengths. Alcohol Pads, Adhesive Tape, Adhesion Promoter and Zip Ties are provided for a seamless installation of every lighting strip. You'll also receive detailed instructions that walk you through the process step by step.
How Do I Install Can-Am Ryker LED Lights?
Create the custom layout you always dreamed of with these lights for Can-Am Ryker on-road three-wheel motorcycles. The included flexible LED lighting strip lengths were designed specifically for Can-Am Ryker three-wheel motorcycles. Bend and curve each strip to your desired mounting location. They can also be cut after every third LED to easily fit harder-to-reach locations. These LED lighting strips have 3' of power wire for plenty of flexibility during installation.
Bluetooth Advanced Million Color Control Box
Upgrade these LED lights for Can-Am Ryker motorcycles by adding the Advanced Million Color Control Box with Smartphone Control. Install the LEDGlow Motorcycle Control App and operate features from the palm of your hand using an iOS (7.0 & up) or Android (4.4 KitKat & up) device. Select virtually any solid color via the Integrated Color Wheel and choose between 15 unique patterns from the dropdown menu. Dual Zone Control independently illuminates (2) sections of the bike simultaneously. Automatic Brake Lights illuminate all installed LEDs in red. The Hazard Lights feature automatically overrides any color or pattern and flashes amber LEDs. Low Voltage Shutoff conserves battery life when the voltage reads less than 10 volts for more than 60 seconds. The kit will automatically shut off allowing you to safely get to your destination. Click here to learn more.
LEDGlow Guarantee
LEDGlow is your source for cutting edge LED lighting systems specially designed for cars, trucks, motorcycles, golf carts, off road vehicles and more. Shop with confidence knowing that all purchases are backed by a One Year Limited Warranty and Free Lifetime Tech Support. You will also have access to an unrivaled customer support experience in the event you have any questions about our LED light kits or lighting accessories.
Upgrading your kit to include the smartphone control box unlocks a collection of features that you can easily select from via the Motorcycle Control App on your iOS or Android smartphone. The app allows you to select virtually any solid color via the integrated color wheel and enables dual zone lighting that illuminates 2 different sections of your bike with different colors, automatic brake lights feature that mirrors your bike's factory brake lights, and hazard lights feature. The control box connects to your smartphone via a secure, Bluetooth 4.0 LE Connection.
LEDGlow Motorcycle Control App for iOS & Android Devices
Allows Up To 1,000 SMD LEDs for Maximum Brightness
Dual Zone Lighting Illuminates 2 Separate Sections of Motorcycle with 2 Different Colors
Automatic Brake Lights Feature Mirrors Motorcycle's Brake Lights when Brakes are Applied
Hazard Lights Features Mirrors Motorcycle's Hazard Lights
Low Voltage Shut Off Setting Helps Conserve The Motorcycle's Battery
Includes 2 Wireless Remotes & Secure Bluetooth 4.0 LE Connection
We take a lot of pride in producing our own video content in-house, whether it's a step-by-step tutorial on how to install your LED lighting kit or taking it to the next level with a video demo where you can see the kit in action! Check out what we have available for the Advanced Million Color LED Lighting Kit for Can-Am Ryker to experience it for yourself!
Add-Ons
Instructions
The Advanced Million Color LED Lighting Kit for Can-Am Ryker comes with an installation guide which is available online and included with your order. You can also visit our library of installation videos which include complete step-by-step tutorials and useful tips on how to install a wide range of LEDGlow products.
| | |
| --- | --- |
| Download and Print the PDF | View Our Help Center |
Videos