Bluetooth Million Color LED Interior Lighting Kit with Smartphone Control
EXTENDED HOLIDAY RETURNS

ACCEPTED UNTIL JANUARY 31ST

DELIVERY BY CHRISTMAS

CONTIGUOUS US ONLY

Free Lifetime

Support

1 Year Limited

Warranty
Overview
LEDGlow's Bluetooth Million Color LED Interior Lighting Kit with Smartphone Control adds vibrant illumination to the inside of any car or truck. Kits are offered in 4pc-12pc tubes that install to the footwells, under dash, side panels, beneath the seats and more. Then navigate a nearly unlimited number of color combinations along with multiple lighting effects for a completely custom lighting experience. You'll be able to create any lighting pattern you can dream of for your vehicle's interior by simply using your smartphone. Accentuate the look of your car or truck with multi-color lighting when you're driving at night.
By using the Integrated Color Wheel on the LEDGlow Automotive Control App, you can create virtually any color of your choosing. Available lighting modes include Pulse Mode, Sweeping Mode, Color Chase Mode, Running Color Mode and much more. Combine colors and lighting effects to create your own custom lighting patterns. Every feature available with this LED lighting kit can be accessed through the app for iOS and Android devices. These car and truck interior lights come with (4) 12" flexible lighting tubes packed with 36 ultra-bright wide-angle 5050 SMD LEDs. Lead Cables, Linking Cables, Adhesive Tape, 4.5' of Power Wire and more are included for installation.
Bluetooth Control Box

Programmed Bluetooth Control Box
Seamless Connection to Smartphone
LEDGlow Automotive Control App
Integrated Color Wheel
16 Lighting Effects

Tube Profile

12" Interior LED Tubes
Flexible Lighting Tubes
Ultra-Bright Wide-Angle SMD LEDs
9 SMD LEDs Per Tube
Daisy-Chain Modular Connectors

Tube Placement

Install to Foot Wells, Side Panels & More
5' Lead Tube Cables
5' Linking Cable
9' Linking Cables
Adhesive Tape
Color Wheel

The integrated color wheel allows you to select any solid color, which can be combined with one of 16 highly unique modes to create the lighting effect you've always dreamed of. Million Color Mode showcases nearly every color combination possible for the interior of your car or truck.

Modes

You'll have a wide range of lighting settings to choose from with your LEDGlow Automotive Control App. Select Strobe Modes, a Color Cycle, Fade Modes, Flashing Modes, a Color Fade & Gradient Mode, and Sound Activation Modes. Customize your LED kit's arrangement in a unique way and enjoy the lighting experience.

5 Presets

By using your LEDGlow Automotive Control App Presets you can save your favorite color, Flashing, Fading, Running and other patterns so that you can easily use them again the next time you turn on your LED kit. This preset option is ideal when you've created the perfect custom pattern that you plan on using on a regular basis.

Settings

In the Settings page, you can customize the features of your LEDGlow Bluetooth interior lighting kit. Turn this car and truck interior LED kit On or Off, adjust the brightness levels, enable Low Voltage Shutoff, get LEDGlow Online Support and more.
Courtesy Lights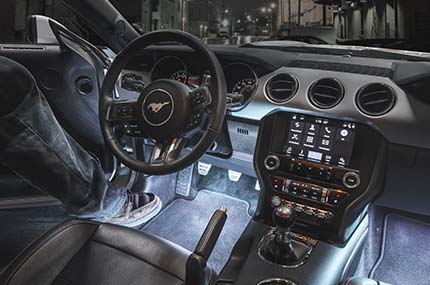 The LEDGlow Automotive Control App comes with a Courtesy Lights Feature that is available with these Bluetooth controlled interior lights for cars and trucks. Having the Courtesy Lights turned on will shift the interior lights to a solid white whenever a vehicle door is opened. The feature is available once you install your kit with the white wire connected to the dome light trigger.
Low Voltage Shutoff
The LEDGlow Automotive Control App has a Low Voltage Shut Off feature which cuts the power to the lighting kit if the vehicle's battery voltage drops under 10 volts for one minute.
Powering The Bluetooth Interior Kit
With 4.5' of power wire and a pre-wired 5 amp inline fuse, these LED interior accent lighting kits for cars and trucks can be powered directly from the vehicle's battery. For simpler installation that doesn't require wire splicing or battery access, other power options are available. LEDGlow's Expandable Circuit will power a phone-controlled automotive light kit's SMD LED strip lights directly from the fuse box. The Cigarette Lighter Power Adapter will easily power your smartphone controlled automotive lighting kit directly from the vehicle's cigarette lighter.
4.0 Bluetooth Low Energy Technology
Easily pair your iOS or Android smartphone device to the control box through a secure Bluetooth 4.0 Low Energy Connection. Using Bluetooth 4.0 LE technology greatly reduces the power consumption, while maintaining a secure point-to-point communication range. Bluetooth technology also allows for a quick and easy automatic connection whenever the device is in range of the control box without having to repair the device to the control box.
LEDGlow Guarantee
LEDGlow is your source for cutting-edge LED lighting systems specially designed for cars, trucks, motorcycles, golf carts, off-road vehicles and more. Shop with confidence knowing that all purchases are backed by a one year limited warranty and free lifetime tech support. You will also have access to an unrivaled customer support experience in the event you have any questions about our LED light kits or lighting accessories.
App Store® is a trademark of Apple Inc. | Google Play and the Google Play logo are trademarks of Google LLC.
Cigarette Lighter Power Adapter
Using the Cigarette Lighter Adapter is a quick and easy solution to power your interior lighting kit from the cigarette lighter receptacle. This accessory features 3-1/2' of wiring and also helps you avoid running the kit's power wires to the vehicle's battery. Simply crimp the kit's power and ground wires into the quick-crimp connectors, insert those into the butt-connectors and the adapter into the cigarette lighter port! It's that easy!
Powers Interior Lights Directly from the Cigarette Lighter Receptacle
Includes 3-1/2' of Wiring with Butt-Connectors & Quick-Crimp Connectors
Expandable Circuit & Fuse
Using an Expandable Circuit allows you to power your kit from your vehicle's fuse box without having to cut or splice into your factory wiring. The expandable circuit functions by replacing an existing fuse in the fuse panel to gain power from and then inserting the factory fuse into the open slot on the expandable circuit. The Expandable Circuit features ATO (ATC), Mini, Low Profile Mini, Micro2 and Micro3 fuse sizes, while also including a 4 amp fuse (Micro2 & Micro3 includes 5 amp fuse) for circuit protection.
Powers Lights from Fuse Box
Expandable Circuit Sizes: ATO (ATC), Mini, Low Profile Mini, Micro2 & Micro3
Includes 4 Amp Fuse (Micro2 & Micro3 Includes 5 Amp Fuse)
We take a lot of pride in producing our own video content in-house, whether it's a step-by-step tutorial on how to install your LED lighting kit or taking it to the next level with a video demo where you can see the kit in action! Check out what we have available for the Bluetooth Million Color LED Interior Lighting Kit with Smartphone Control to experience it for yourself!
Add-Ons
Instructions
The Bluetooth Million Color LED Interior Lighting Kit with Smartphone Control comes with an installation guide which is available online and included with your order. You can also visit our library of installation videos which include complete step-by-step tutorials and useful tips on how to install a wide range of LEDGlow products.
| | |
| --- | --- |
| Download and Print the PDF | View Our Help Center |
Videos