36" TailFlex® SUV LED Tailgate Light Bar
EXTENDED HOLIDAY RETURNS

ACCEPTED UNTIL JANUARY 31ST

Free Lifetime

Support

1 Year Limited

Warranty
Overview
Jeep & SUV TailFlex® Tailgate Light Bar
LEDGlow 36" TailFlex® LED Tailgate Light Bars give you the ability to bend and curve this flexible lighting strip to achieve that perfect fit on your Jeep or SUV's tailgate for added signal visibility when driving. This ultra-thin Jeep light bar and SUV light bar is packed with (36) Red 3528 SMD LEDs for Running, Brake, Flashing Hazards and Turn Signal features. The White Reverse Lights have (18) White 3528 SMD LEDs that shift the tailgate light strip to all-white anytime you go in reverse.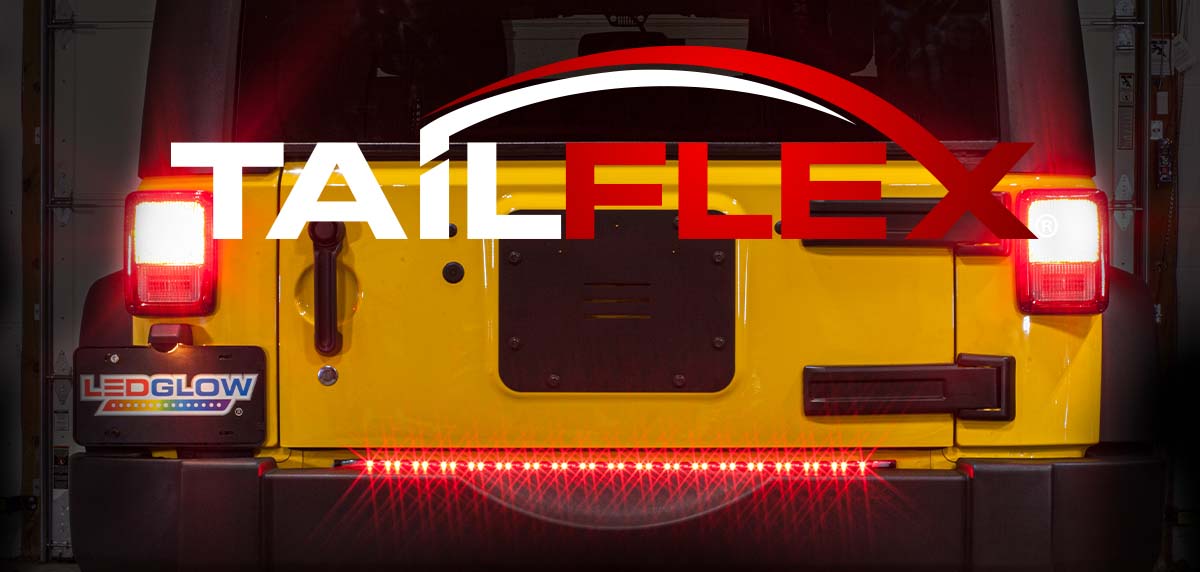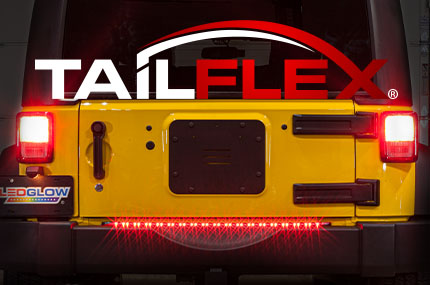 Jeep & SUV Flexible Tailgate Lights Installation
A Flat 4 Pin Trailer Connection Harness is included with each SUV and Jeep tailgate light bar utilizing seamless Plug and Play Connectivity and 38" of wire for maximum mounting capability. If you're looking for a secure, hardwired connection you can easily splice the tailgate light bar's wires into your vehicle's tail lights. Mounting these LED bar lights for SUVs and Jeeps is extremely easy with the double sided adhesive tape, mounting brackets and self-tapping screws included.
Plug & Play Connectivity

The attached Flat 4 Pin Trailer Connector provides the simplest way to power the light strip by using your truck's trailer plug. The attached white wire is used to activate the Reverse Lights feature by tapping into the factory reverse lights wire in your tail light assembly.

Watertight Design

The 3528 SMD LEDs are completely secured by utilizing silicone injection and sealed end caps. You'll achieve a clean look across the back of your mid-size truck with a reinforced, water-resistant design that contributes to the IP67 waterproof rating.

IP67 Waterproof Rating

The durable, ultra-thin housing for these 49" LED lights for truck tailgates has a 1/4" thickness and 1/2" height. This truck tailgate light bar was built to hold up to extreme weather conditions, regular car washes, and even the occasional dip in a boat slip.

Brake Lights

Anytime you apply your brakes you can utilize the flexible tailgate light bar's Brake Lights feature. This option activates the 48 ultra-bright Red SMD LEDs, illuminating the rear of your mid-size pickup and notifying other drivers when you're slowing down.

Reverse Lights

The Reverse Lights feature utilizes 24 ultra-bright White SMD LEDs on these flexible truck tailgate lights. When you put your pickup in reverse, the lights will be activated automatically, clearly alerting other drivers when your truck is backing up.

Turn Signals

The Right Turn Signal and Left Turn Signal features operate in conjunction with the Red 3528 SMD LEDs. When you use either turn signal, the corresponding side of the light strip will blink simultaneously in red while the opposite side remains inactive.
LEDGlow Guarantee
LEDGlow is your source for cutting edge LED lighting systems specially designed for cars, trucks, motorcycles, golf carts, off road vehicles and more. Shop with confidence knowing that all purchases are backed by a One Year Limited Warranty and Free Lifetime Tech Support. You will also have access to an unrivaled customer support experience in the event you have any questions about our LED light kits or lighting accessories.
This Y-Splitter Harness allows you to simultaneously power your tailgate LED light bar and trailer lights from your truck's factory flat 4 pin connector. This harness features plug and play connectivity with a length of 18" and 9" or wire for both tailgate and trailer lights connections.
Simultaneously Power Tailgate LED Light Bar & Trailer Lights from 1 Harness
Plug & Play
Only Compatible With a Flat 4 Pin Connection
This Tailgate Trailer Adapter converts your truck's 7 pin trailer connector to a flat 4 pin connector to power lighting accessories such as tailgate light bars, trailer lights, and much more! Featuring a heavy-duty, weatherproof design with rust-resistant prongs, this adapter will stand up to any weather condition. Installing this adapter takes seconds as you would simply plug it into your truck and then your flat 4 pin accessory into the adapter.
Converts Truck's 7 Pin Trailer Connector to Flat 4 Pin
Heavy-Duty, Weatherproof Design
Plug & Play
Add-Ons
Instructions
The 36" TailFlex® SUV LED Tailgate Light Bar comes with an installation guide which is available online and included with your order. You can also visit our library of installation videos which include complete step-by-step tutorials and useful tips on how to install a wide range of LEDGlow products.
| | |
| --- | --- |
| Download and Print the PDF | View Our Help Center |