Posted by Matt P. on Mar 14, 2023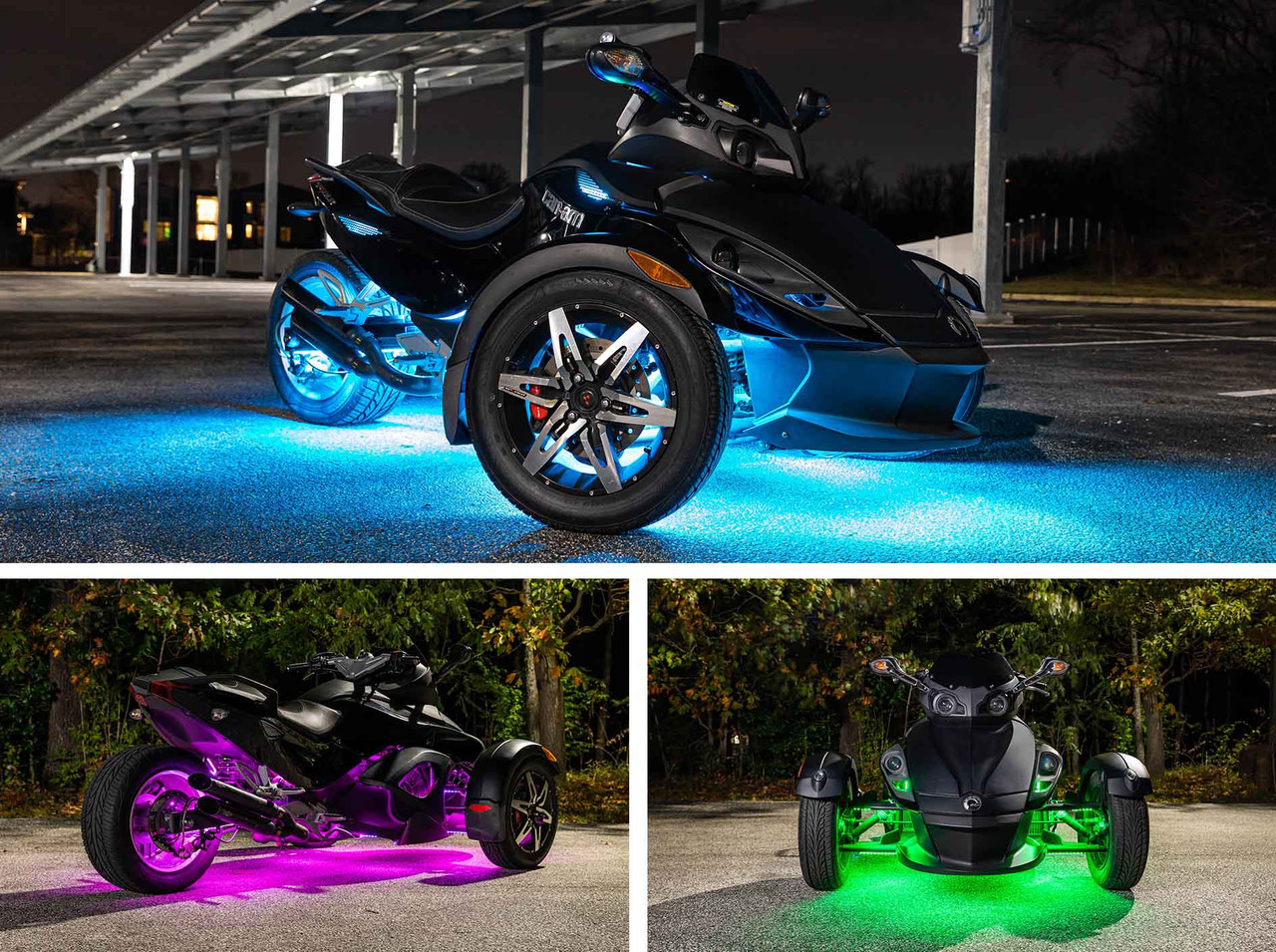 Can Am Spyder LED Lights
Made Specifically for the Spyder
Bluetooth Lighting System
Use Your iOS or Android
Advanced Million Color Kit
Integrated Color Wheel
Dynamic Lighting Effects
Download the LEDGlow App
---
It's officially a go. LEDGlow Bluetooth Advanced Million Color Can Am Spyder LED Lights got the green light and are now available. Coming off the success of the Ryker LED Lights we recently worked on, we couldn't wait to get this kit up and running.
These Can Am Spyder Light Kits are equipped with flexible ultra-thin SMD LED light strips that pack a punch and deliver one-of-a-kind illumination when you're on the road. There's also a compact Bluetooth Control Box so you can activate any features using your smartphone.
It wasn't too long ago that we picked up a Spyder locally and brought it to our garage to measure out the kit. Whenever we create vehicle-specific lighting systems, we make sure they're completely tailored to that make and model. In this case, we designed light strips for the sides around the engine, behind the vents, the underbody, body, air intake, rear swing arm and other areas.
Where do we start with all the features these Can Am Spyder LED accent lights are capable of?
Begin by downloading the LEDGlow Motorcycle Control App and program lighting patterns that put every contour of this bike on display. The Integrated Color Wheel gives you the ability to blend a wide range of custom colors. Scroll through lighting effects like Flash Modes, Strobe Modes and Fade Modes. Then build those custom patterns that will showcase your Spyder after sundown.
Sound Activation Mode makes these Spyder LED lights react to the beat of the music playing in your Spyder. The Advanced Million Color Cycle scrolls through an almost unlimited number of variations in the shading of the colors you select. There's also Dual Zone Control, Automatic Brake Lights, Low Voltage Shutoff and plenty more this Spyder lighting is capable of.
All of this is possible with a few swipes on your iOS or Android. We also include a couple handy wireless remotes to control features as well. Grab your light kit for Can Am Spyder designed specifically for these 3-wheel touring motorcycles and add a brand new dimension to your riding experience.