Million Color Slimline LED Truck Underbody Lighting Kit
EXTENDED HOLIDAY RETURNS

ACCEPTED UNTIL JANUARY 31ST

DELIVERY BY CHRISTMAS

CONTIGUOUS US ONLY

Free Lifetime

Support

1 Year Limited

Warranty
Overview
LEDGlow's Million Color Slimline LED Truck Underbody Lighting Kit adds vibrant and spotless illumination to the underside of your vehicle. Navigate a wide range of color options combined with multiple lighting effects for a completely customized lighting experience. All settings are easy to operate via the included control box and wireless remote. You'll be able to create any lighting pattern you can dream of for your vehicle's underbody and showcase the look of your truck with custom LED lighting when you're driving at night.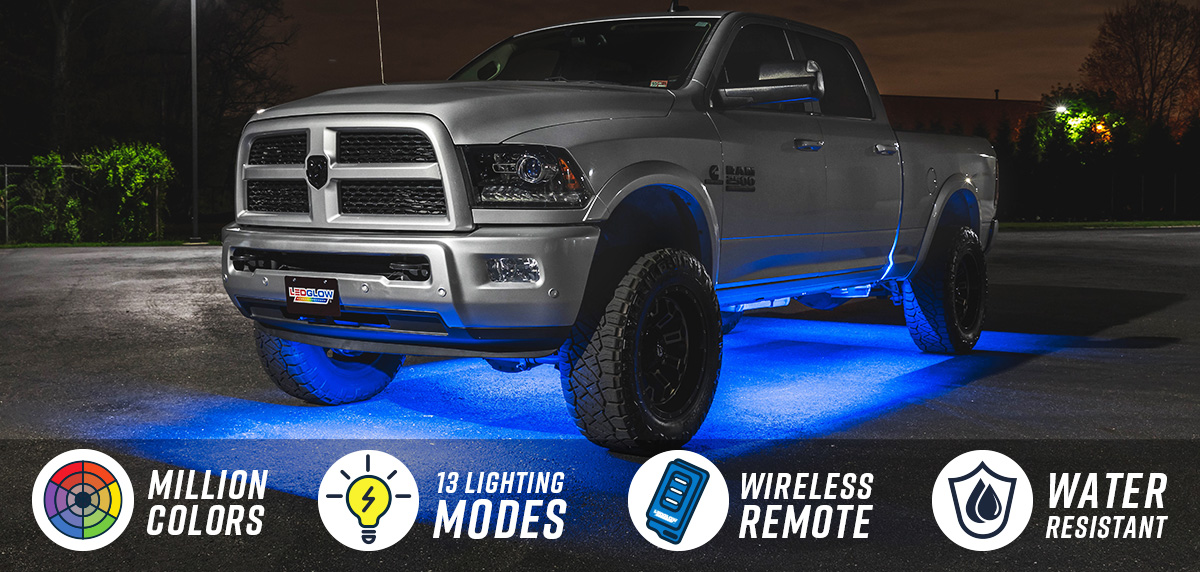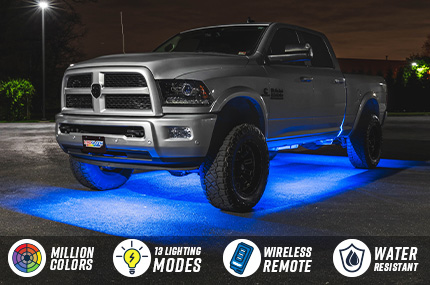 Choose between 10 Solid Color Modes and unique lighting effects including Scanning Modes, Chasing Modes, Sound Activation Modes and much more. By combining colors and effects you'll be able to create your own custom patterns. All features are available through the pre-programmed control box and can be operated directly through the control box or by using the included wireless remote. These multi-color truck underglow lights come equipped with 390 Ultra Bright, Wide Angle 3528 SMD LEDs housed in (2) 46", (2) 36" and (2) 24" tubes that will add vibrant and spotless illumination to your vehicle. Each undertruck light tube features an extremely slim profile at a diameter of 5/8" and is easily powered by daisy chaining each tube to the next via modular connectors. There is 3' of wiring on both ends of each light tube so you'll have additional wire length during installation. The 24" tubes are perfect for illuminating your truck's larger wheel base when combined with the 46" tubes, minimizing the gaps in your undertruck lights for a comprehensive glow.
Control Box and Remote

Programmed Control Box
4 Button Wireless Remote
10 Solid Color Modes
Flashing, Scanning, Fading Modes & More
Sound Activation Mode

Tube Profile

(2) 46" LED Lighting Tubes
(2) 36" LED Lighting Tubes
(2) 24" LED Lighting Tubes
Each Tube Has a 5/8" Diameter
390 Ultra Bright, Wide Angle SMD LEDs

Tube Placement

Tubes Have 3' of Wire on Each End
Modular Connectors
Mounting Brackets
Zip Ties
Screws
Million Color Cycle Mode

LEDGlow's Million Color Cycle maximizes the impact of the 10 Solid Color Modes that are available with this LED underglow lighting kit. By setting this feature, you will scroll through an almost-unlimited number of variations in the shading of each solid color option. Activating this lighting effect is simply a matter of selecting it on the included wireless remote or directly on the control box. Stand out on the road at night and turn a few heads as your truck is transformed by Million Color Lighting.
Add-On Accessories
Get the full effect of these neon underglow lights for trucks with an optional add-on LED lighting kit. Experience complete customization by expanding this truck underglow kit to other sections of your vehicle. You can choose to add ultra-bright LED Grille Lights and match the same lighting patterns as the underbody settings. Expand lighting to the wheels and tires with the 4pc Add-On Wheel Well Lighting Kit. Install this lighting kit and increase the amount of SMD LED lighting tubes now or expand the size of your lighting system at a later time. It is entirely up to you.
LEDGlow Guarantee
LEDGlow is your source for cutting-edge LED lighting systems specially designed for cars, trucks, motorcycles, golf carts, off-road vehicles and more. Shop with confidence knowing that all purchases are backed by a one year limited warranty and free lifetime tech support. You will also have access to an unrivaled customer support experience in the event you have any questions about our LED light kits or lighting accessories.
Million Color Slimline LED Add-On Grille Light
Adding the Grille Light to your Slimline Underbody Kit completes the accent lighting style of your car or truck. This 24" grille tube shines underglow lighting through the grille, showcasing the front end of your ride and is easily mounted to the bumper support or hood latch with the included mounting brackets and screws. The tube daisy-chains to the other underbody lights, offering plug and play connectivity.
Enhances the Front End Accent Lighting by Shining Lights Through the Grille
24" Tube with 3' of Wire on Each End
Includes Mounting Hardware
Million Color Slimline LED Add-On Wheel Well Lights
Add-On Wheel Well Lights feature (4) 24" flexible tubes that synchronize colors and patterns performed by the underbody lights, to the wheel well area of your car or truck. These lights mount to the fenders and shine ultra-bright lighting onto the wheels, further expanding the underglow lighting to other areas of your ride.
Expands Underglow Lighting to the Wheel Well/Tires
(4) 24" Flexible Tubes with 3' of Wire on Each End
Daisy-Chains to Underbody Tubes
No Additional Controller Required
180 Ultra-Bright SMD LEDs

These wiring extensions add 3' of wiring to the 3' of wire attached to each end of the underbody tube. Extensions are available from 1pc to 2pc options to account for each side of the vehicle.
Extends 3' Underbody Light Tube Wiring An Additional 3' in Length
Available in 1pc or 2pc Options
We take a lot of pride in producing our own video content in-house, whether it's a step-by-step tutorial on how to install your LED lighting kit or taking it to the next level with a video demo where you can see the kit in action! Check out what we have available for the Million Color Slimline LED Truck Underbody Lighting Kit to experience it for yourself!
Add-Ons
Instructions
The Million Color Slimline LED Truck Underbody Lighting Kit comes with an installation guide which is available online and included with your order. You can also visit our library of installation videos which include complete step-by-step tutorials and useful tips on how to install a wide range of LEDGlow products.
| | |
| --- | --- |
| Download and Print the PDF | View Our Help Center |
Videos