Posted by Paul on May 07, 2018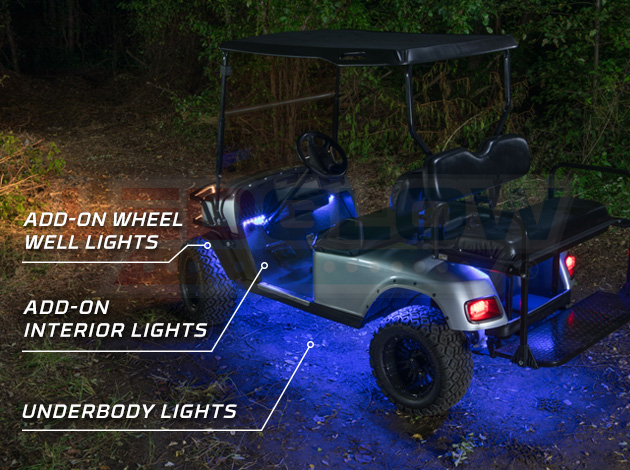 Are you interested in the latest and most exceptional product on the market that will make your golf cart stand out in a unique and exciting light? If the answer is yes, then you've got to try LEDGlow's Expandable Million Color Golf Cart Underbody Light Kit. After all, golf carts aren't just for golf courses anymore! As a matter of fact, golf cart LED lights are growing in popularity. Whether you're out on a college campus or riding through a retirement community, there's no denying the amazing impact that golf cart lights can have on the functionality and appearance of your gas or electric golf cart.
The Expandable Million Color Golf Cart Underbody Light Kit is better than ever! That's because it has recently been updated from its original version to provide you with even more fun features to explore. This multicolor golf cart light kit has been tailored to the fit and functionality of a golf cart making it a truly custom-designed product. Building on the first version of the kit, the new LEDGlow Expandable Million Color Golf Cart Underbody Light Kit features (2) 18" flexible tubes and (2) 28" flexible tubes for a total of 92 ultra-bright Wide Angle SMD LEDs. The earlier version, by comparison, only housed 48 SMD LEDs in (4) 24" tubes.

One of the more notable features is the option to add Interior and Wheel Well lighting add-ons to complement your underbody LED golf cart lights. With these exhilarating options, one thing is for sure: you can ride in style and luxury with the help of the Expandable Million Color Golf Cart Underbody Light Kit. These options were never available before and can add even more light to the standard underbody kit.
The Interior LED Lights Kit features (4) 8" Interior Tubes, while the LED Wheel Well Lights Kit features (4) 12" Wheel Well Tubes. These smaller Wheel Well Tubes are designed specifically for golf carts and are also water-resistant so that you can enjoy your riding experience no matter what the conditions might be.
LEDGlow's Expandable Million Color Golf Cart Underbody Light Kit will not only enhance the appearance of your golf cart, but it will also deliver safety features in an appealing way. Keep yourself and others safe at night by lighting the path with this revolutionary product.
You can choose from a variety of colors with this golf cart lighting kit, such as red, hot pink, pink, purple, orange, yellow, green, teal and blue. With this lighting kit, you can illuminate your golf cart with multiple solid color options and multicolor lighting effects for a customized look that will be sure to turn heads no matter where you drive.
In addition to the color options available, you can also enjoy 5 different speed settings, solid illumination, 3 Strobe Modes, a Color Cycle, 2 Fade Modes, 2 Flashing Modes, Color Fade & Gradient Mode, a Demo Mode, 4 Sound Modes, an S.O.S. Flashing Mode and more. What is new to this version of the kit are the S.O.S. Flashing Modes, 3 Fade Modes, and 3 Strobe Modes.
This kit also includes a 12 port junction box, easy-to-use control box, two wireless remotes, a connection cable that links the junction box to the control box and rubber port plugs. The second remote, underbody tube length options (the option for more tubes depends on whether or not you choose to go with the exciting add-ons, which features them in different sizes accordingly) and the 12 Port Junction Box (including rubber port plugs which help protect unused ports in the Port Junction Box) are new features for the kit.
You might also consider an LEDGlow Golf Cart Battery Voltage Reducer in the event that the batteries in your electric cart don't provide you access to exactly 12 volts of power. The voltage reducer will make the installation process much easier regardless of the number or type of batteries in your cart.
If you're searching for a distinctive look for your golf cart that has been engineered for lighting perfection, LEDGlow's Expandable Million Color Golf Cart Underbody Light Kit will be the answer you've been looking for. The next time you decide to ride your golf cart around a first-class resort or on the campground, make sure your Expandable Million Color Golf Cart Underbody Light Kit is installed for all to see and experience. Lights for golf carts are both practical and fun, which makes them the ultimate golf cart accessory. Additionally, LED lights for golf carts are simple to install. Golf cart light kits can make a world of a difference for your driving experience, so make sure to order LEDGlow's Expandable Million Color Golf Cart Underbody Light Kit.