Million Color Wireless LED Truck Underbody Lighting Kit
EXTENDED HOLIDAY RETURNS

ACCEPTED UNTIL JANUARY 31ST

Free Lifetime

Support

1 Year Limited

Warranty
Overview
LEDGlow's Million Color Wireless SMD LED Underbody Lighting Kit adds vibrant and spotless illumination to the underside of your truck. Navigate a wide range of color options combined with multiple lighting effects for a completely custom lighting experience. All settings are easy to operate via the included control box and wireless remote. Create any lighting pattern you can dream of for your vehicle's underbody and showcase the look of your truck with custom LED lighting when you're driving at night.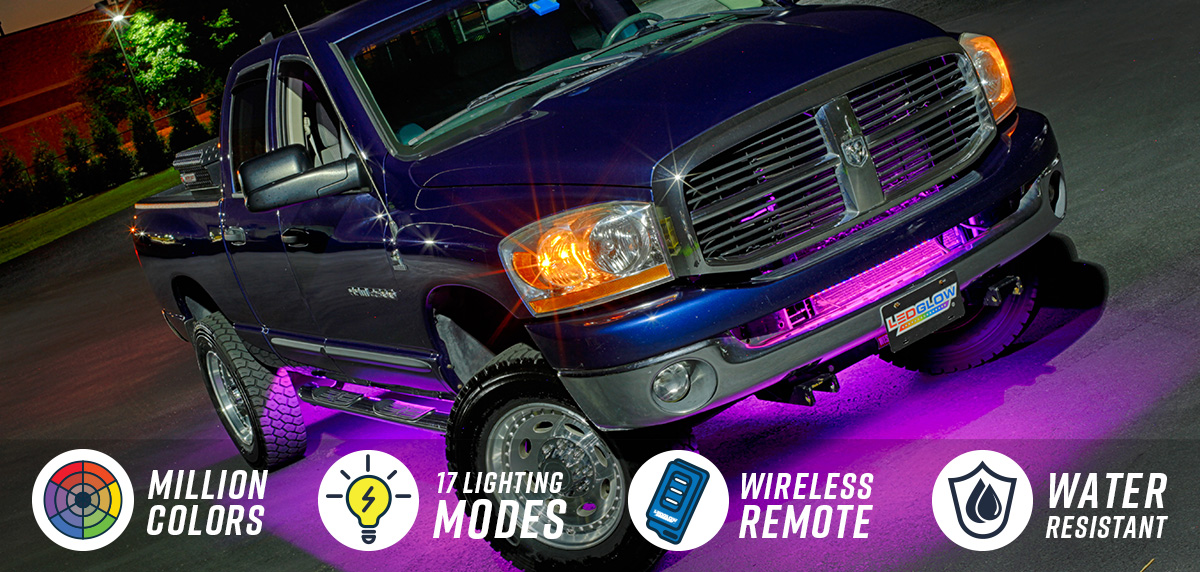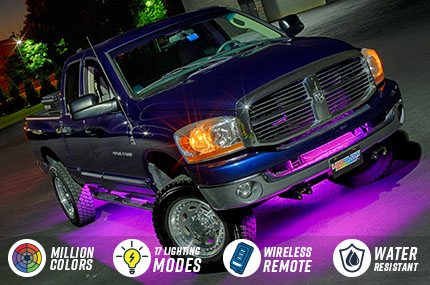 Choose between 18 Solid Color Modes and unique lighting effects including Flashing Modes, Chasing Modes, Sound Activation Modes and more. By combining colors and effects you'll be able to create your own custom patterns. All features are available through the pre-programmed control box and can be operated directly through the control box or by using the included wireless remote. These under truck LED lights include (2) 46", (2) 36" and (2) 24" high-impact water-resistant acrylic tubes featuring 474 ultra-bright wide-angle 3528 SMD LEDs which project 270 degrees of lighting. Each truck underglow tube has a light and thin design and is easy to mount using the provided screws, zip ties and 15 degree-angled clear mounting brackets. The clear brackets are the first of their kind and allow light to shine through them without any breaks or interruptions. The 46" tubes come with 13' of power wire; the front 36" tube comes with 13' of power wire; the rear 36" tube features 18' of power wire; and the 24" tubes come with 13' of power wire. You'll have no trouble running the wiring to the included Underbody Junction Cable which is mounted in the engine bay.
Control Box and Remote

Programmed Control Box
4 Button Wireless Remote
18 Solid Color Modes
12 Flash Patterns, 5 Sound Activated Modes, 5 Speed Modes
Million Color Cycle Mode

Tube Profile

(2) 46" LED Lighting Tubes
(2) 36" LED Lighting Tubes
(2) 24" LED Lighting Tubes
High Impact, Water Resistant Acrylic Tubes
474 Ultra-Bright Wide-Angle 3528 SMD LEDs

Tube Placement

Underbody Junction Cable
Power Wire Attached to Tubes
270 Degrees of Lighting
15 Degree Angled Clear Mounting Brackets
Zip Ties & Screws
Million Color Cycle Mode

LEDGlow's Million Color Cycle maximizes the impact of the 18 Solid Color Modes that are available with this LED underglow lighting kit. By setting this feature, you will scroll through an almost-unlimited number of variations in the shading of each solid color option. Activating this lighting effect is simply a matter of selecting it on the included wireless remote or directly on the control box. Stand out on the road at night and turn a few heads as your car is transformed by Million Color Lighting.
Add-On Accessories
Get the full effect of these neon underglow lights for cars with optional add-on LED lighting kits. Experience complete customization by expanding this car underglow kit to other sections of your vehicle. You can choose from Interior Lights, Grille Lights, Wheel Well Lights and Engine Bay Lights. Add one of these lighting kits or all four, and either increase the amount of SMD LED lighting tubes now or expand the size of your kit at a later time. It is entirely up to you.
LEDGlow Guarantee
LEDGlow is your source for cutting-edge LED lighting systems specially designed for cars, trucks, motorcycles, golf carts, off-road vehicles and more. Shop with confidence knowing that all purchases are backed by a one year limited warranty and free lifetime tech support. You will also have access to an unrivaled customer support experience in the event you have any questions about our LED light kits or lighting accessories.
Million Color SMD LED Add-On Interior Lights
Adding Interior LED Lights to your Underbody Kit allows you to bring the ultra-bright underglow lighting inside your car or truck. Users typically install these lighting tubes to shine down on the footwells, whether installed underneath the dashboard, under the seats and some even install them in the trunk.
Add Ultra-Bright Interior Lighting to the Footwells
Connects Directly to Underbody Control Box
No Extra Control Box Needed - Plug & Play
12" Tubes Offered in 2pc, 4pc, 6pc, 8pc or 10pc Kit Options
9 Ultra-Bright 5050 SMD LEDs per Tube
Includes Junction Cable & Mounting Hardware
Million Color SMD LED Add-On Grille Light
Adding the Grille Light to your underbody kit completes the accent lighting style of your truck, while synchronizing colors and patterns performed by the underglow lights. This 24" grille tube shines underglow lighting through the grille, showcasing the front end of your ride.
Enhances the Front End Accent Lighting by Shining Lights Through the Grille
Easy Plug & Play Design
No Additional Controller Required
24" Tube with 13' of Wire
48 Ultra-Bright 3528 SMD LEDs
Includes 7-Port Junction Cable & Mounting Hardware
Million Color SMD LED Add-On Wheel Well Lights
Add-On Wheel Well Lights feature (4) 24" flexible tubes that synchronize colors and patterns performed by the underbody lights, to the wheel well area of your car or truck. These lights mount to the fenders and shine ultra-bright lighting onto the wheels, further expanding the underglow lighting to other areas of your ride.
Expands Underglow Lighting to the Wheel Well/Tires
(4) 24" Flexible Tubes with 13' of Wire
Easy Plug & Play Design
No Additional Controller Required
48 Ultra-Bright SMD LEDs
Includes 4-Port Junction Cable for Wheel Well Kit
Includes 4-Port Junction Cable, 2-Port Underbody to Wheel Well Junction Cable & Mounting Hardware
Million Color SMD LED Add-On Wheel Ring Lights
Wheel Rings allow you to really showcase the wheels of your ride with ultra-bright lighting that shines through the wheel, illuminating the inner portion of the wheel and matching the underbody colors and patterns. Each ring installs to the dust shield or hub assembly and is manufactured from rust-resistant black anodized aluminum. These features result in a versatile design with 360° of mounting possibilities. These add-on kits include a two easy to use junction cables that plug directly into the control box.
Shines Lights Through the Wheels in Versatile Ring Design
(4) Wheel Ring Lights in 14", 15-1/2" & 17" Diameter Sizes
14"/15-1/2" & 15-1/2"/17" Combo Sizes Available
10 Tapped Holes, 5 Pre-Attached Mounting Brackets and 2 Adjustable Clip-On Brackets
Includes 4-Port Junction Cable for Easy Install
Mounting Hardware Included
Please See Sizing Guide to Confirm the Proper Size & Compatibility
Million Color SMD LED Add-On Engine Bay Lights
Add-On Engine Bay Lights feature (6) 6" waterproof tubes that add ultra-bright, multi-color lighting to showcase the work you've done under the hood. Quick and easy installation means less time wiring your lights and more time enjoying the glow.
Shines Light on the Engine & Other Parts Under the Hood
(6) 6" Waterproof Tubes with 5' of Wire
Easy Plug & Play Design
No Additional Controller Required
(36) 5050 SMD LEDs
Includes 6-Port Junction Cable & 2-Port Engine Bay to Interior Junction Cable
Mounting Hardware Included
Add-Ons
Instructions
The Million Color Wireless LED Truck Underbody Lighting Kit comes with an installation guide which is available online and included with your order. You can also visit our library of installation videos which include complete step-by-step tutorials and useful tips on how to install a wide range of LEDGlow products.
| | |
| --- | --- |
| Download and Print the PDF | View Our Help Center |