White LED Flexible Slimline Truck Underbody Lighting Kit
EXTENDED HOLIDAY RETURNS

ACCEPTED UNTIL JANUARY 31ST

DELIVERY BY CHRISTMAS

CONTIGUOUS US ONLY

Free Lifetime

Support

1 Year Limited

Warranty
Overview
LEDGlow Flexible Slimline White Underglow for Trucks delivers a spotless color spill that surrounds the bottom of your pickup with ultra-bright white LED illumination. These expandable white LED underbody lights for trucks feature flexible ultra-thin lighting tubes equipped with 5050 SMD LEDs. Included with each white LED underglow kit are (2) 30" front and rear tubes, (2) 48" tubes for the sides and (2) 24" tubes for trucks with a larger wheel base. Secure the tubes with pre-applied adhesive tape that runs the length of the tubes in addition to mounting hardware provided. Use the handy 4-Button Wireless Remote to program custom lighting patterns combining white lighting and effects. Transform the look of your mid-size or full-size with white underglow lights for trucks anytime you hit the streets.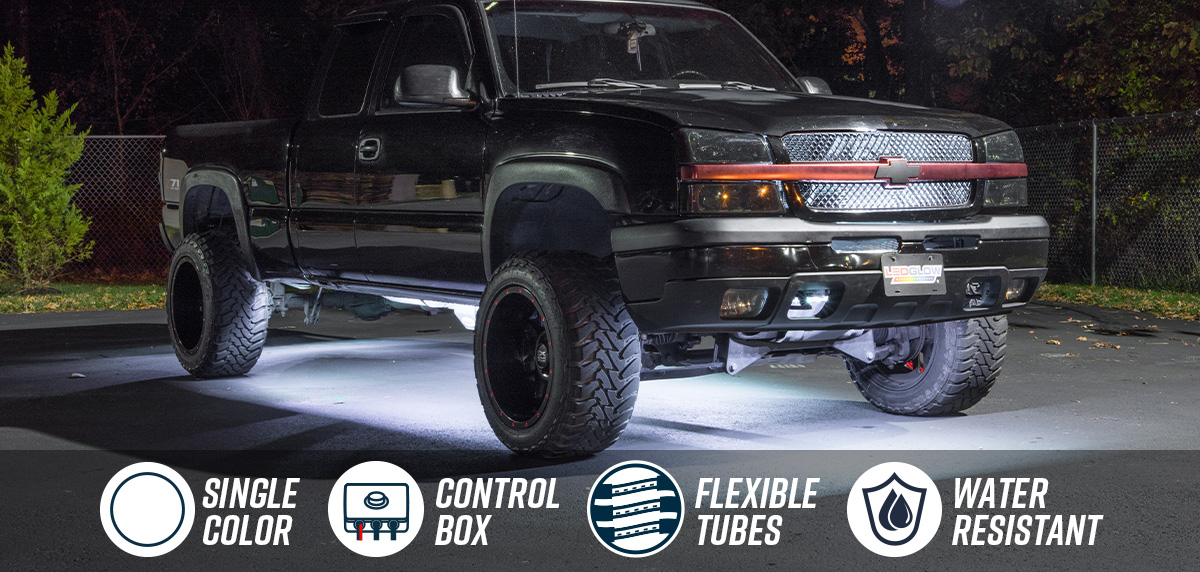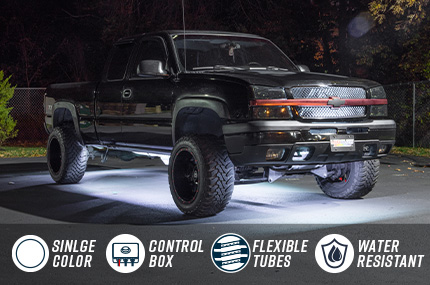 Activate all features for this White Underglow for Trucks with the programmed Control Box. In addition to Solid Color Mode you can choose between Fade, Flash and SOS Modes to build patterns. The Control Box has a power switch with (2) 3' lead connectors that connect to the lighting tubes, and 3' of power and ground wires with a 2.5 Amp Inline Fuse. At a compact size of 1-3/8" x 2-1/8" x 5/8", it can easily be stored inside of your truck with the ability to power a total of 432 SMD LEDs (216 SMD LEDs per output wire).
Control Box & Remote

Programmed Control Box
4 Button Wireless Remote
Solid White Illumination
Fade, Flash, SOS Modes
Brightness & Speed Levels

Tube Profile

High Impact, Water Resistant Flexible Tubes
(2) 48" Flex Tubes for Sides - 72 LEDs Per Tube
(2) 30" Flex Tubes for Front and Rear - 45 LEDs Per Tube
(2) 24" Flex Tubes for Larger Wheel Base - 36 LEDs Per Tube
5/16" Ultra-Thin Slimline Tubes

Tube Placement

Daisy-Chain Tubes with Attached 3' Power Wiring
Pre-Applied Adhesive Tape on Tubes
End Caps & Modular Connectors
15-Degree Angled Clear Mounting Brackets
Zip Ties & Screws
White Underglow for Trucks
These white underglow lights for trucks feature Slimline lighting tubes packed with 306 ultra-bright wide-angle 5050 SMD LEDs. The 30" tubes (45 LEDs per Tube) are designed specifically for the front and rear with better clearance for modern dual exhaust vehicles. The 48" tubes (72 LEDs per Tube) are measured for the sides of your pickup and the 24" tubes (36 LEDs per Tube) are for full-size trucks with a larger wheel base. Each flex tube has 3' of power wire attached so you can easily daisy-chain one tube to the next. The flat mount tube design with clear, 15-degree angled mounting brackets delivers a tighter fit and makes installation even easier.
Slimline Truck Underglow Kit Add-On Accessories
Maximize the impact of your truck underbody accent lighting with accessories that enhance the underglow kit. These accessories can be installed at any time if you want to add them now or at a later date. An LED Grille Light is available which illuminates your truck's front grille. It will reflect the same white illumination as the truck underglow kit. You can also add 3' Wire Extensions that deliver even more flexibility during installation.
LEDGlow Guarantee
LEDGlow is your source for cutting edge LED lighting systems specially designed for cars, trucks, motorcycles, golf carts, off road vehicles and more. Shop with confidence knowing that all purchases are backed by a One Year Limited Warranty and Free Lifetime Tech Support. You will also have access to an unrivaled customer support experience in the event you have any questions about our LED light kits or lighting accessories.
Slimline LED Add-On Grille Light
Adding the Grille Light to your Slimline Underbody Kit completes the accent lighting style of your car or truck. This 24" grille tube shines underglow lighting through the grille, showcasing the front end of your ride and is easily mounted to the bumper support or hood latch with the included mounting brackets and screws. The tube daisy-chains to the other underbody lights, offering plug and play connectivity.
Enhances the Front End Accent Lighting by Shining Lights Through the Grille
24" Tube with 3' of Wire on Each End
Includes Mounting Hardware

These wiring extensions add 3' of wiring to the 3' of wire attached to each end of the underbody tube. Extensions are available in 2pc options to account for each side of the vehicle.
Extends 3' Underbody Light Tube Wiring An Additional 3' in Length
Available in 2pc Options
Add-Ons
Instructions
The White LED Flexible Slimline Truck Underbody Lighting Kit comes with an installation guide which is available online and included with your order. You can also visit our library of installation videos which include complete step-by-step tutorials and useful tips on how to install a wide range of LEDGlow products.
| | |
| --- | --- |
| Download and Print the PDF | View Our Help Center |